Here at Bodywear Lab, we're here to deliver a smooth journey for our clients, providing a start-to-finish product service where we work with you to develop your concept digitally and physically and see it through to manufacturing. 
Take a look at our extensive list of services below:
Product Vision - Concept Creation - Technical Drawings - Basic Sourcing
We can help you with concept creation, sketches to create CADs and provide complete technical sheets to get you started on the build of your product.
"We collaborate with our clients to make their concepts fully realised collections"
Visualise Collection - Material & Colour Testing - Sampling
Virtually build your collection with our 3D design services, allowing you to visualise your collection without needing to produce unnecessary additional samples. Or create a phygital collection for use both in the digital and physical World. Or even create a digital collection to help raise funds before investing into physical products.
"Creative, eco-friendly & economical, 3D design is the future for fashion"
Consultancy - Custom Sourcing - Masterclass
To help locate the perfect materials for your products and create exquisite swatch packs for your collection, we can fabric source as an individual service or part of the design phase depending on your specific pain points.
"Fabric & hardware choices can transform a design and truly make it your own"
Claudine, Sourcing & Buying Specialist
Pattern Creation - Sampling- Fit Feedback - Grading - Tech Pack
With this service, sit back and let us handle everything for you! Pattern creation, samples, fit assessments, grading, and technical pack creation, are all done in one place with a plugin team of specialists that will update you throughout the journey.
"Quality & precision is vital for a brand's customer loyalty"
Made In London - Made Overseas - Product Planning
With MOQs as low as 500 units per collection manufactured here in London or with our partners in Europe for larger quantities, we are here to provide a seamless start-to-finish manufacturing journey with a specialist focus on lingerie, swim and activewear manufacture.
"London or overseas, we have manufacturing partners to suit any brand"
Penny, Production Co-ordinator
Our workflow helps you understand how each of our services leads into the next for you to end up with your collection.
You do not have to complete the entire workflow as we can take on clients at different stages in the design phase. If you have any questions please contact our team.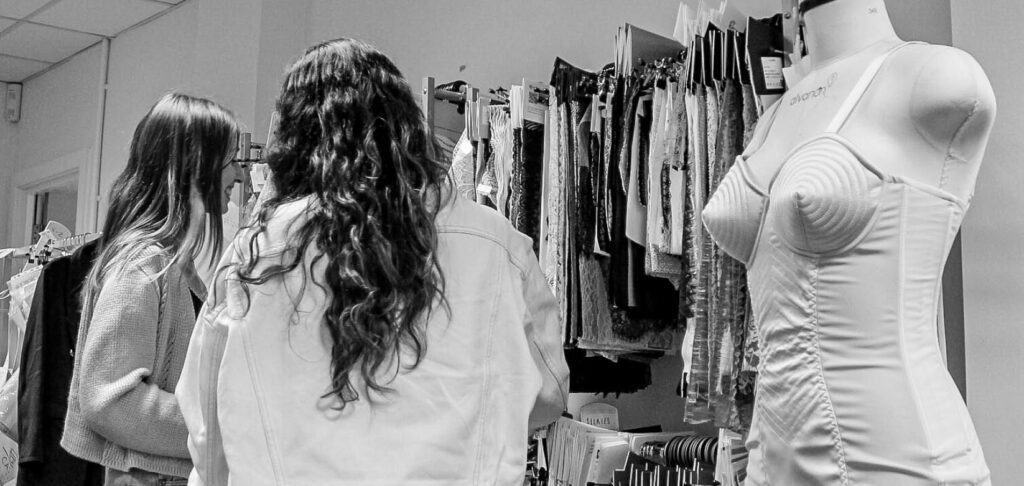 All Services Deck Download
If you're interested in any of our product-related services or are keen to get more information, download our deck or get in touch and a member of our team will get back to you as soon as possible!